Looking for the ultimate gift for the knitter in your life? These luxury knitting needle sets are the ultimate way to spoil or thank the knitter in your life.
Knitting needles may be seem to be humble tools, but their quality affects not only the finished product — a shawl to be gifted, a sweater to be treasured — but also the knitter's experience. A well-designed, comfortable needle that will last decades is hardly a splurge in the hands of someone who knits for hours on end.
If you've been the lucky recipient of a handknit gift and wonder how to return the favor, a luxury needle set like those we've reviewed below will surely show your appreciation and take a prized spot in your knitter's needle collection.
Beautiful hardwood needles
Lantern Moon was a smaller manufacturer of high-end wood knitting needles in straight, double point, fixed and interchangeable circular styles. Before they closed in 2018, Lantern Moon specialized in finely-crafted luxury hardwood needles made from ebony wood, rosewood and more affordable palmwood, as well as the Featherlight series, the industry's first needles made entirely from sustainably harvested FSC (Forest Stewardship Council)-certified woods.
When looking for a hardwood needle, it's important to select an ethical manufacturer like Lantern Moon, who offered a living wage to it's employees in Vietnam and Portland, Oregon, and used suppliers who certify their operations through indepentent, sustainable forest management programs.
The Lantern Moon rosewood needle is a deep red with lots of grain, while the ebony is nearly black. The palmwood is much lighter and has a unique pattern, and the Featherlight series are dark with a subtle grain. All are made by hand and polished to a silky finish. Any needles still available are likely to be snatched up soon, as they ended production in 2018 and will not be returning to the market.
These gorgeous Lantern Moon knitting needles are heirloom quality and make a great gift for an experienced knitter, if you can still find them in stores.
Lantern Moon straight needles are available in 10", 12" and 14" lengths in all four hardwoods (Ebony, Rosewood, Palmwood, and Featherlight). Each have lovely contrasting wood ends.
Lantern Moon Fixed Circulars are available in 4 common lengths (16", 26", 32", 40") in Rosewood, Ebony and Featherlight. For interchangeable circulars, the Rosewood have smooth, gold-plated screw-in connections in sizes US4-US13.
Precision-engineered specialty needles
Produced by a family-owned machine shop in Kenosha, Wisconsin, Signature needles are a newer luxury brand famous for their ultra-sharp "Stiletto" needle point.
Available in straight, double-point, and "convertible" circular styles, the needles are machined from aircraft-quality anodized aluminum coated in a vibrant colors — each size a different hue. For this specialty 'Goldilocks' coating — not too smooth, not too grippy — you will pay a premium. This Signature Convertible set will set you back 3 to 4 times what any standard interchangeable knitting needle sets cost.
As either the ultimate splurge or a gift your beloved knitter will never forget, Signature knitting needles are in a league of their own.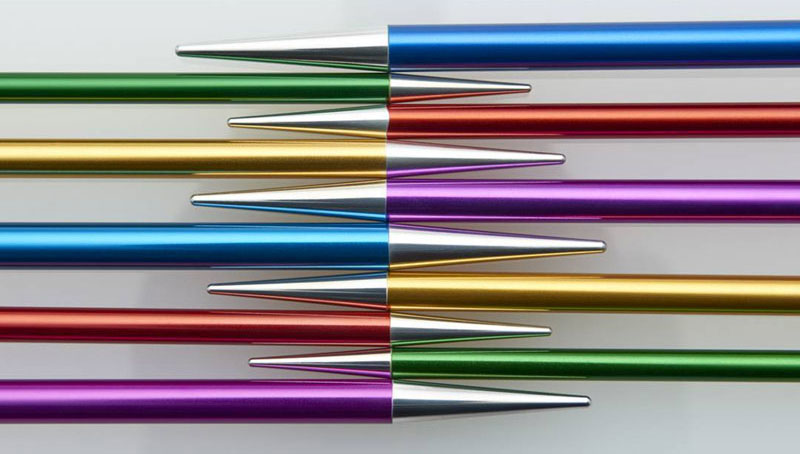 For knitters who want the ultimate flexibility in points, the Signature series of precisely engineered point styles (Stiletto, Middy, and Blunt) can't be beat.
The Signature Double Point needles in 5", 6", and 8" lengths have the Stiletto point, with an additional set of 4" needles that have a Stiletto point on one and and a Blunt point on the other.
Signature DPNs and straight needles are lauded as some of the best in the knitting industry.
Signature's Single Point straight needles are available in 7", 10", and 14" lengths in all three point styles. The Single points also have three styles of decorative end caps: Bell, Spiral, and Teardrop.
A luxury look without the pricetag
Manufacturer KnitPro (distribued as Knitter's Pride in North America) has many lines of needles of various materials and price points.
Their finest needles are the Knitter's Pride Royale, which have 11 radiant colors of birch wood with electroplated brass tips, giving knitters the color and texture of a wood needle with a smooth, sharp metal tip. You can find the same needles marketed as "KnitPro Royale" outside North America.
Another KnitPro / Knitter's Pride line to consider is the KnitPro Symfonie Rose needles, which are stained and textured like rosewood (with the same laminated birch base as the rest of the Symfonie lines), available in a 9-size interchangeable set with copper-toned connectors in a beautiful custom hardcase.
These are marketed as Knitter's Pride Deluxe Interchangeable Rose in North America. Both are quite the show stoppers and will have any knitter's eyes lighting up.
---