Investing in a set of interchangeable knitting needles is a commitment to the next 10 or more years of your knitting pleasure. We've reviewed more than a dozen interchangeable knitting needles sets and recommend the top needles geared towards those knitters needing an all-around needle set, including some upgrades for knitters with more specific needs.
How to choose an interchangeable knitting needle set
Just like any other knitting needle, the tip profile, material and finish, price, warranty are all important characteristics. When looking at interchangeable knitting needles, there are three specific variables to consider:
The breadth of sizes included
The quality of the join and cables
The versatility of the set to serve you in many different kinds of projects
What is a Join?
Most interchangeable sets connect by screwing the threaded end of the flexible cable into the base of the needle until tight. Where the needles meet the cables is called the "join", and it's important to inspect joins to make sure they are smooth, so that yarn will slide over easily without catching, and sturdy, as the join endures a lot of force throughout it's knitting lifetime.
We've evaluated over a dozen different sets against these critera to come up with our picks for you. We'll go into greater depth on selecting a needle based on material (metal, wood, bamboo, or resin) in a future guide.
Our favorite interchangeables for most knitters
Our favorite all-around workhouse knitting needle set for most intermediate knitters is the Addi Click Turbo Interchangeables. The Addi line is one of the most lauded manufacturers of quality knitting needles.
The Turbos feature an ultra-slick white bronze plated brass finish that allows yarns of all types to slide easily, far easier than any other knitting needle we've tested. At around $110, the set starts you off with 10 pairs of needle size US4-US15, three cables in common lengths, and a female-to-female connector for joining cables for larger projects or for securing the ends of the cables so that the work can not come unravelled while being stored, all in a tidy black case.
Don't lose your work with a secure cable connector
We're particularly fond of the Addi-style keyless spring-twist connector. Rather than screwing in (and gradually unscrewing through use) like most interchangeable sets, the Addi line connects with a push-and-twist method similar to a child safety cap on a medicine bottle, and stays securely connected until you again push and twist to release.

The Addi interchangeable cables are a soft light blue that loosens quickly and doesn't coil up while you're working "Magic Loop" style on small projects, with a smooth join where the cable meets the metal connector. While not the most flexible cable we've tested, the Addi cables perform very admirably.
Not the sharpest needle in the box
Some knitters who tested the Addi Turbos weren't used to such a rounded point, but we think the blunt tip helps prevent the beginning-to-intermediate knitter from accidentally splitting the yarn between the plies, allowing them to work faster and more accurately. For this reason, we plan to feature the Addi Turbos in our upcoming Guide to the Fastest Knitting Needles.
To serve more experienced knitters working with lace or frequently knitting socks, we have other recommendations for needles with sharper points below.
Welcome to the (finely-crafted) family
Addi Knitting Needles are available at almost any local yarn store, as well as online, though you won't find them or most of the other higher-end brands in any big box or larger craft retailers. In addition to the blunt-tipped Turbos, Addi has two styles of sharper lace point interchangeables, as well as a bamboo interchangeable set, all three of which share the same connector style, giving a knitter variety down the line should they choose to expand their collection.

All of the Addi interchangeable sets come in very sturdy cases with faux suede lining, elastic loops and pockets for the cables. We find the Addi cases to be among the best of all the knitting needle sets we've reviewed. At $111, the smooth Addi Click Turbos are slightly more affordable than the sharper Addi sets, which sit at around $125.
We've been pleased with all of the Addi needles we've tried, and Addi's lifetime warranty gives us confidence in many more years of enjoying this well-rounded and versatile set.
A good interchangeable set with a sharper point
Our runner up is another metal interchangeable set with a good reputation for quality. Rather than Addi's nickel-plated brass, ChiaoGoo Red Lace Interchangeables are made from surgical-grade stainless steel, with a fine point and an incredibly pliable red cable. The set includes 13 pairs of needles sizes US2-US15 (so, three more sizes than the Addi set) for roughly $105.
While the finer point may be a matter of preference, or for knitters who frequently work in detail or small-guage projects where precision is key, the ChiaoGoo cable is just a little bit more flexible than the light blue cable of our favorite set.
Two sets in one
Why, then, do we favor the Addis over the ChiaoGoo set with the better cable and three additional needles?
In order to accomodate the two additional, smaller needles, the ChiaGoo set has two different diameters of screw-in connections: S (small, for needle sizes US2-US8) or L (large, US9-US15); and you have to match small-diameter needles to small-diameter cables, and large needles to large cables, respectively.
We think fiddling with separate sets of cables and needles negates some of the benefits of buying an interchangeable set (namely, that any needle can be used with any cable length or even needles of other sizes), and it's a disappointment that this set isn't entirely interchangeable. The similarly sharp, and more expensive, HiyaHiya Interchangeables have three different connector sizes, so while we love them for fixed circular needles, they don't make our list of best interchangeable sets.
Don't lose your keys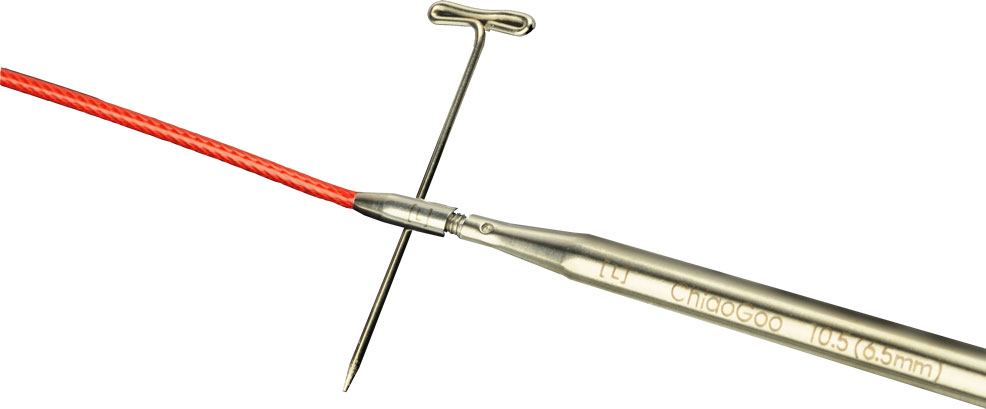 We also find the need for an additional key to tighten and loosen the screw-in connections to be a small inconvenience, as the keys can go missing at inopportune times, keeping your needles hostage until you replace the key. That said, most interchangeable sets require a key or grip to tighten or loosen the needles, and plenty of knitters improvise with paperclips and the like.
While we feel the extra $5 for the Addis is well spent, the ChiaoGoo Red Lace Interchangeables are well-loved by many knitters[1] due to the fine quality of the needles and cables; so if the connector sizes are no inconvenience to you, the set is very well-priced for its craftsmanship. You can't go wrong with either set.
The best budget interchangeable needle set
While it's just as true in knitting needles as in any other tool that you get what you pay for, we understand that not everyone can plunk down $100 on a set of needles.
Most big box and larger craft retailers have economical sets on the shelves, like the Boye Needlemaster or Susan Bates around the $40 mark. We don't recommend those sets, as even for their pricepoint, the quality doesn't hold up over time. These needles tend to have rougher joins, bend easily, chip off their finishes, and have very inflexible cables that can put a new knitter off, feeling that their own clumsiness is to blame.
If you want a reliable set of workhorse needles under $50, you should check out the Denise Interchangeable Brights.
The Denise needles are made from a specially-forumlated plastic resin in bright colors, making them a suitable choice for beginning knitters or children. That doesn't mean experienced knitters don't find Denise needles a good value in this 10-pair set; in fact, Denise was the first to ever produce interchangeable needles, and some knitters have stuck with this classic brand ever since. The needles have more flex than metal needles and strike a comfortable balance between slick metal needles and stickier wood.
Denise interchangeable cables are much thicker than other brands, so Denise needles don't come in sizes smaller than US5. The cables are stiff enough that we wouldn't recommend them for "Magic Loop" style knitting. If you're just starting out, or looking to sneak your knitting needles into your carryon, these fun, affordable, plastic needles are a great set to learn on.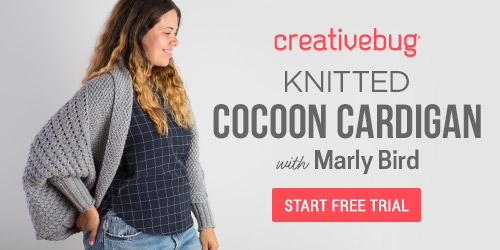 The Denise needles above are pictured in a limited-edition fabric case that's no longer available. If you don't like the plastic VHS-tape inspired case the Denise Brights come in, you can get a set in pink fabric roll-up case which benefits breast cancer research for $80.
The competition
We mention the HiyaHiya Sharps in contrast to the ChiaoGoo Red Lace as a sharper stainless steel needle. In fact, the HiyaHiya's are even sharper, so we'd only recommend them for very accurate knitters and those knitting lace or socks.
We also compared the KnitPicks / KnitPro and Knitter's Pride needles, which share a connector style and are, mostly by accident, interchangeable brands. Both have a reputation for coming unscrewed[2] which results in dropping stitches and setting a knitter back many rows. Both brands come in a colorful array of beautiful wood stains and metal needles, but at $45 for 7 pairs, or $55 for 9 pairs, compared to Denise's 10 for $45, the smaller KnitPicks and KnitPro interchangeable sets won't set you up for as wide a variety of projects. KnitPicks and KnitPro needles aren't a bad needle, but they aren't one of our top choices.
The ubiquitous Boye Interchangeable needles also got poor reviews from knitters due to the stiffer cable and rough joins, as well as quality issues[3]. You may also notice we don't recommend any bamboo needles in this guide. Bamboo needles aren't wildly popular with knitters as our other picks, due to very dull tips and a sticky surface that really grabs the yarn. We've also had bad luck with bamboo needles breaking and splintering, and aren't convinced that they're sturdy enough to rely on.
If you have a favorite set of interchangeable needles, share why below!
---
---