Produced by a family-owned machine shop in Kenosha, Wisconsin, Signature needles are a newer luxury brand famous for their ultra-sharp "Stiletto" needle point. Available in straight, double-point, and "convertible" circular styles, the needles are machined from aircraft-quality anodized aluminum coated in vibrant colors — each size a different hue.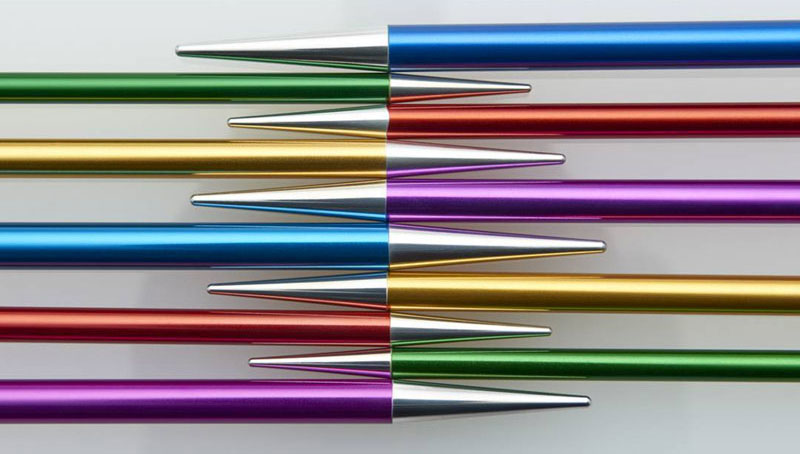 One of the industry's sharpest knitting needles
For knitters who want the ultimate flexibility in points, the Signature series of precisely engineered point styles (Stiletto, Middy, and Blunt) can't be beat.
The Signature Double Point needles in 5", 6", and 8" lengths have the Stiletto point, with an additional set of 4" needles that have a Stiletto point on one and and a Blunt point on the other. These needles have a subtle grip in between that of a wood needle and a chrome or nickel-plated metal, making some knitters rethink their love of Magic Loop. Signature DPNs and straight needles are lauded as some of the best in the knitting industry, and a favorite among knitters who prefer ultra-sharp needle points. If you're interested in a sharply-tipped knitting needle, check out our guide to the sharpest knitting needles.
Signature's Single Point straight needles are available in 7", 10", and 14" lengths in all three point styles. The Single points also have three styles of decorative end caps: Bell, Spiral, and Teardrop.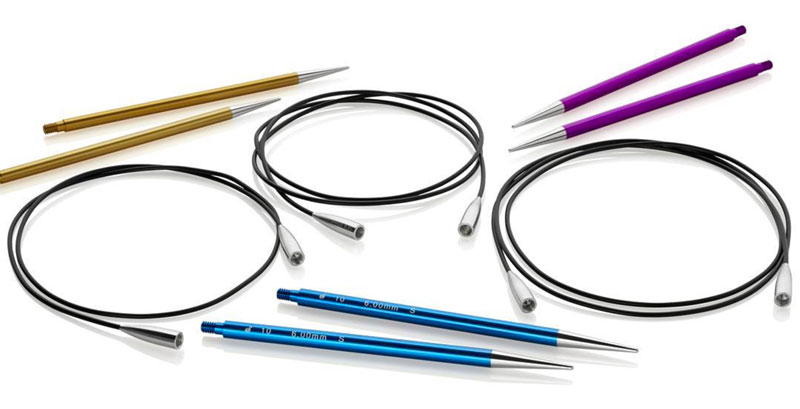 While less popular than their straight cousins, Signature offers circular needs with all three needle tip styles. The circular black cables are flexible and the "convertible" joins are smooth, though lace weight yarns sometimes catch around the swivel joins.
Convertible vs interchangeable knitting needles
Rather than a conventional interchangeable design, where any length of cable can be used with any size tip, the Signature "Convertible" style needles are a hybrid between fixed and interchangeable. Cables can be of any length but must match the size of the needle (for example, there are size US4 cables in lengths of 24", 32", 40" etc, that will only attach to size US4 tips).
Some knitters have expressed trouble with the connections coming unscrewed, which is somewhat common amongst all keyless interchangeable needles. This critique and the more complex matching cable-to-needle system marks the Signature set just a bit lower in ease in our guide to the best interchangeable knitting needles.

The Signature Sock series of fixed circulars have a clear cable which, unlike the other Signature needles, do not swivel at the join. Aside from the Sock series, Signature has discontinued all fixed circular needles in favor of the convertible circulars.
Ultra-sharp size 0 needles
Signature's size 0 double-pointed needles are made from stainless steel instead of aluminum in 5" and 6" lengths and sets of 4 or 5 Stiletto-tippped needles.
Signature is one of the few brands which offer a lifetime warranty against manufacturing defects, though the wording of the warranty implies that you should try to begin the return process within 21 days of receipt.
---