Lantern Moon is a smaller manufacturer of high-end wood knitting needles in straight, double point, fixed and interchangeable circular styles.
Lantern Moon specializes in finely-crafted luxury hardwood needles made from ebony wood, rosewood and more affordable palmwood, as well as the Featherlight series, the industry's first needles made entirely from sustainably-harvested FSC (Forest Stewardship Council)-certified woods. When looking for a hardwood needle, it's important to select an ethical manufacturer like Lantern Moon, who offers a living wage to it's employees in Vietnam and Portland, Oregon, and uses suppliers who certify their operations through indepentent, sustainable forest management programs.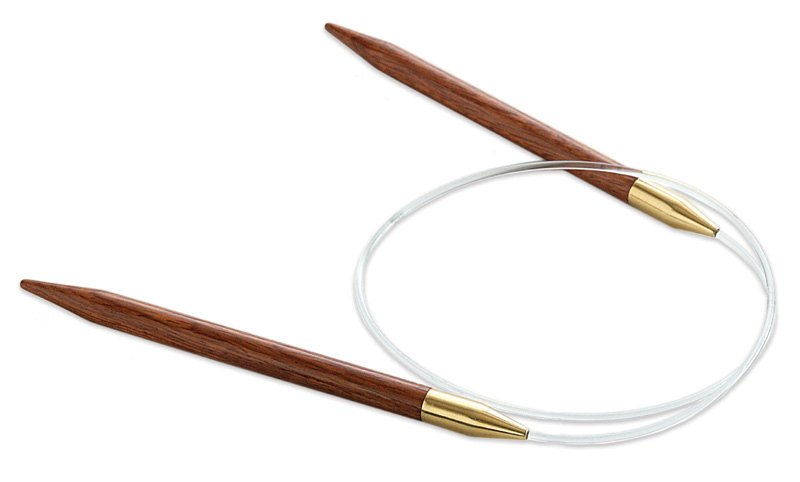 When choosing between the woods, it comes down to personal preference. The rosewood is of course a deep red with lots of grain, while the ebony is nearly black. The palmwood is much lighter and has a unique pattern, and the Featherlight series are dark with a subtle grain. All are made by hand and polished to a silky finish. These are heirloom needles and make a great gift for an experienced knitter.
Lantern Moon straight needles are available in 10", 12" and 14" lengths in all four hardwoods (Ebony, Rosewood, Palmwood, and Featherlight). Each have contrasting wood ends. Lantern Moon double-pointed needles come in sets of 5 in 5", 6", or 7" lengths in Rosewood or Ebony. Lantern Moon Fixed Circulars are available in 4 common lengths (16", 26", 32", 40") in Rosewood, Ebony and Featherlight. For interchangeable circulars, the Rosewood needles have smooth, gold-plated screw-in connections in sizes US4-US13. Make sure to get a spare tightening tool to keep cables from loosening mid-project. These needles are hard to find in local yarn stores.
---