KnitPro needles are distributed under the brand "Knitter's Pride" in North America, and are made from a variety of materials including birch wood, acrylic resin, plated brass, carbon fiber and bamboo.
A Carbon Fiber Needle
KnitPro is the only major knitting brand to release a carbon-fiber needle in the Knitter's Pride Karbonz line. The strong, lightweight needles have smooth, black shafts with sharp, electroplated brass tips (like the Symfonie Royales) and are available in straight, double-pointed, fixed circular, and interchangeable circular styles. If you're rough on your needles and tend to break your double-points, we recommend investing in some Karbonz.
A wide variety of styles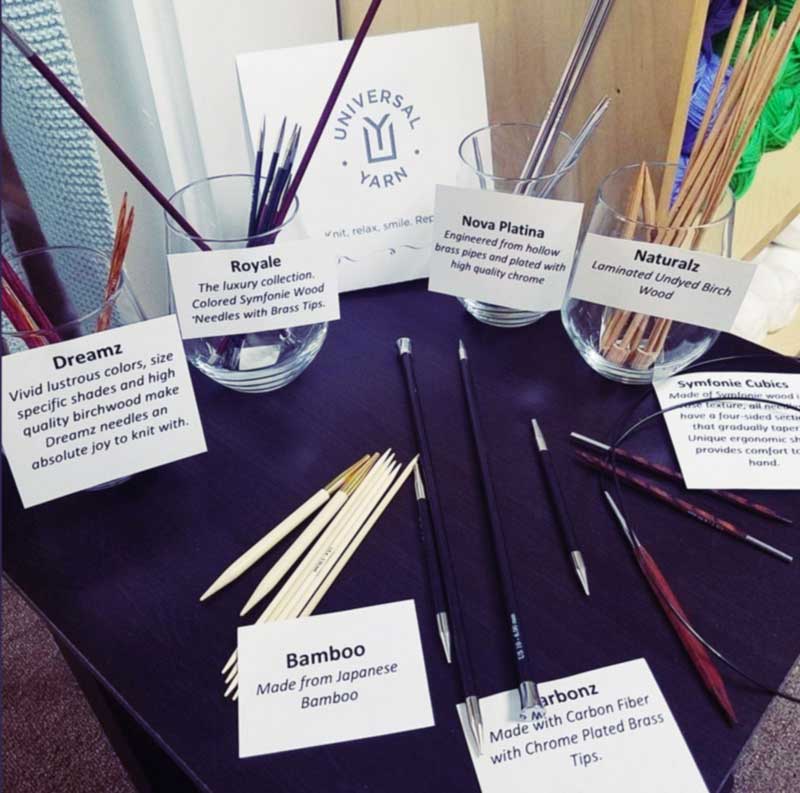 KnitPro Symphonie / Knitter's Pride Dreamz is a complete line of straight, double-pointed, fixed and interchangeable circulars in laminated birch stained in 11 different variegated wood tones — each size a different color.
The similar KnitPro Symphonie / Knitter's Pride Royale needles have 11 radiant colors with electroplated brass tips, giving knitters the color and texture of a wood needle with a smooth, sharp metal tip. We recommend these beautiful needles as an affordable alternative to the best luxury knitting needles.
For a less vivid option, the KnitPro Symphonie Rose needles are stained and textured like rosewood (with the same laminated birch base as the rest of the Symfonie lines), available only in a 9-size interchangeable set. Symfonie Rose Cubics are a special line of needles with flat edges, great for beginners or knitters with hand pain, and these Rose needles are available in straight, double-pointed, fixed, and interchangeable circular styles. Knitter's Pride also has cubic needles in electroplated brass under the Nova Cubic line. For more square-profile needles, check out our guide to the best ergonomic knitting needles.
While a more affordable brand of needles, KnitPro circular cables can come detached from their joins if treated carelessly. Similarly, the characteristics of laminated wood can mean that some Symfonie needles weaken overtime or with poor care. After long use, some knitters report that the finish wears off the tips of their KnitPro birch needles, though they should still last much longer than lighter bamboo tips. Manufacturer defects are covered under KnitPro one-year warranty, which is shorter than the lifetime warranty available on higher-end needles like Addi and ChiaoGoo.
A keyed set that fits with KnitPicks
Like many interchangeable sets, KnitPro interchangeable needles require a cable key to secure the cable joins to the needle tips, so be sure to keep one in your knit kit. Regardless of material, all KnitPro needles use the same style of keyed connector, so you can mix and match with different colors and the super slick Nova plated brass needles, as well as the KnitPicks needles, which have the same screw-in connector. KnitPicks needles were originally manufactured by the same factory that made Knitter's Pride and KnitPro needles; for this reason, their needles and cables can be used across all three brands. KnitPicks has similarly vivid-toned laminated birch needles for knitters wanting a variety of colors to choose from.
Electroplated vs chrome knitting needles
There are a few subtle differences between the electroplated KnitPro Nova and the chrome-plated Knitter's Pride Platina Nova; the Platina line has a slightly smoother finish and sharper tip. Knitter's Pride Platina tips are easier to find in North America. KnitPro (the international brand) also produces Zing, a multi-hued set of ultra-lightweight but strong metal needles in every style, a different color for each size.
Beautiful, vibrant acrylic needles
A less common material to find in popular knitting manufacturing, KnitPro/Knitter's Pride has a affordable line of acrylic resin needles in bright colors. The KnitPro Trendz are solid, semi-translucent and brightly colored; while the Knitter's Pride Marblz are hand-mixed with a unique multicolor pattern to every needle. The acrylic material provides a certain amount of grab, making them useful for slippery yarns like silk. Both the Marblz and Trendz lines are available in all the needle styles: straight, double-pointed, fixed circular, and interchangeable circular.
An even more affordable needle, the KnitPro Basix are a natural-toned lightweight birch needle available in every style with sizes up to US 50, ideal for chunky yarns and roving. While popular for their birch wood lines, KnitPro also offers Bamboo needles in every style, with a special 24K gold-plated metal connector on the fixed and interchangeable needles. Bamboo flexes more than other materials and can be more comfortable than needles of stiffer material.
---