Does a set of sharp DPNs make you nervous, but it's clear your circular needle is just too long (or short) to be useful? When should you try Magic Loop instead? How many DPNs do you really need?
Circular needles have become the workhorse knitting needles in the modern era; they adapt well to both flat and in-the-round knitting and are far more portable and flexible, where traditional straight needles are limiting and bulky.
The 8-10 bare points of a set of Double-Pointed Needles (DPNs) might give you pause, but there are times where a circular needle is just too long to be useful. In this guide, we'll go over the differences between DPNs and circular needles, how to choose between circulars and DPNs, and share our favorite needles for each case.
If you're new to circular knitting, you may want to check out a short online video course to introduce you to the fundamentals of knitting in the round.
Knitting with sticky or slippery yarns
For glove and sock knitting, the gauge and needle size are often very small, such as US00-US2. DPNs of this size are necessarily thin; wood and bamboo DPNs at these sizes are prone to breakage, and some aluminum needles can bend if excessive force is applied.
We like the sturdy but not too slippery Knitter's Pride Karbonz DPNs for their blend of strength and grip at small sizes.
If you're a tight knitter, or knitting with a 'sticky' fiber like wool or alpaca, you may want to avoid wooden or bamboo DPNs in favor of smooth nickel-coated brass or steel DPNs.
Then again, the added grip that wood or bamboo needles provide may be helpful if your fiber is particularly slippery, like linen or silk yarns, or if you tend to knit loosely, because nothing is worse than dropped stitches. For those situations, we recommend another Knitter's Pride kit, the vibrant hardwood Dreamz DPN kit.
When choosing DPNs, it's a good idea to get a set that's easy to match the same sizes together.
You don't want to end up knitting with nearly all US0 and one US1 by accident, which would throw off your gauge at every 5th needle. Sets like the Knitter's Pride Dreamz have each size in a different color, so you can quickly differentiate the needles you need.
Knitting I-Cord
This type of in-the-round knitting uses only two DPNs to create a thin tube, called an "I-cord". If you haven't tried this yet, it's a surprisingly simple, if fiddly, process, with many video and text-based tutorials.
Don't try to knit i-cord with a circular needle, as the cord length would get tangled with your working yarn. If you're proficient at single crochet, the method for knitting an i-cord with a crochet hook and a single DPN is simple and effective. Any knitter will benefit from having a few crochet hooks on hand for this and other tricks.
Knitting narrow tubular items
Socks, sleeves, dolls, gloves, mittens, and the like can be knit on either DPNs or circulars, and some may benefit from a combined approach.
For very narrow tubes, such as the fingers of a glove or amigurumi projects, DPNs are your only option.
For projects where the diameter of a tube is at least 4-6", such as the body of a sock or hand of a glove or mitten, you have the option of trading your 4 or 5 DPNs for a pair of matching circular needles.
Knitting with two circular needles of the same size is a bit like knitting with DPNs, except there are just two needles to keep track of. Dual circular needles are effective, though you do end up with rather long circular needle 'tails' on narrow projects, and have to buy knitting two needles of the same size, which can be pricey.
If you're working on something narrow like socks, sleeves, or cuffs and find yourself frustrated by the fiddly DPNs or the tangled pair of circular needles, there are some pretty clever options below.
The perfect circular needle for sock knitting
Some knitters claim to have found the Goldilocks of knitting needles in the often raved-about 9" circular knitting needle. If your sock or sleeve knitting projects often have simple ribbing or stockinette you want to speed through, you may want to try out the ultra smooth stainless steel HiyaHiya 9" Circular Needles or the ChiaoGoo 9" Circular Needles, coming in around $10 and $8, respectively.
You can't go wrong with either needle, as both offer warranties and an excellent build. HiyaHiya needle tips are just a little sharper, though that isn't necessarily better. If you tend to unconsciously 'push' your needle points with your finger tips, you may find that the sharp tips of some metal needles hurt after a few minutes of knitting.
We like the Addi EasyKnit needles because one needle tip is just a little bit shorter, giving you a more natural curve and making them just the slightest bit more comfortable than a standard 9" circular. We list these in our guide to the best sock knitting needles.
Hybrid DPN-Circular Knitting Needles
A number of needle manufacturers have tried to find the 'sweet spot' between DPNs and circulars. These clever options attempt to mitigate the dangers of dropped and twisted stitches on DPNS while offering a more compact option that's less prone to tangling and pulling apart at the joins than ultra-long circular needles.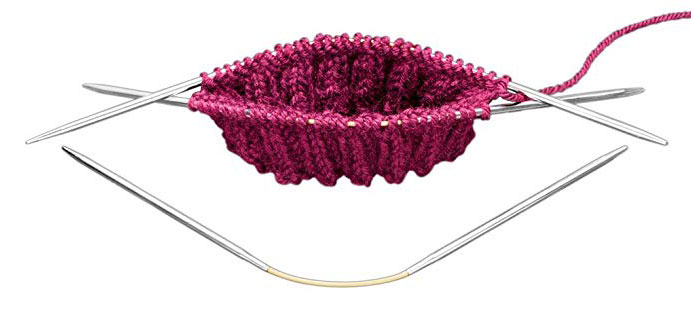 Neko was first to market with their elbow-shaped Neko Sock Curved Double-pointed Needles, available in brightly colored plastic at around $16-25 a set. The plastic material is not overly slick, which prevents stitches from sliding off the tips by accident.
Their unique shape allows for narrow in-the-round projects like socks, sleeves, or cuffs to be knit with just 3 needles, rather than the typical 4 or 5 DPNs, and they don't slide out or roll under furniture easily. The elbow bend allows each tip of the needle to be closer to the next needle, effectively eliminating the "ladder" effect as the whole project keeps it's nearly tubular shape throughout the knitting process.
The Neko DPNs' somewhat unusual shape is reminiscent of a cable needle; once accustomed to Neko needles, many knitters find that their narrow sock and sleeve projects work up faster with these. They do share one important characteristic with classic DPNs — as narrow pieces of plastic, they can break under too much force. If you have a heavy hand or tight gauge, you may need to loosen up to use them (though, that's probably a good idea for your hands anyways).
For knitters who find plastic an uncomfortable or 'grabby' material, trusted German brand Addi recently released a similar 3-needle option using their classic nickel- or bronze-coated brass circular needles and a short, flexible cable. They're marketed as the Addi Flexiflips in the US, and the Addi CrazyTrio elsewhere, priced at $25-30 a set.
We cover more needles for narrow knitting in detail in our guide to the best sock knitting needles.
What's so "magic" about Magic Loop?
If you don't want to keep two knitting needles of the same size around, explore the "Magic Loop" knitting technique, which uses a single exceptionally long circular needle.
Invented by Sarah Hauschka and described by Beverly Galeska, the technique has changed narrow circular knitting forever. If you're unfamiliar, there are a number of video tutorials raving about Magic Loop.
The "loop" refers to the excess length of the circular needle cord which is pushed out to one side of the work, allowing you to knit smaller tubes on a much longer needle. It may seem counter-intuitive, but for Magic Loop, you'll want a much longer circular needle so that the extra cord has room to loop back on itself rather than get kinked or stretched.
We recommend a 40" circular needle for the Magic Loop method, and the HiyaHiya 40" Magic Loop Set gives you the four most common sock knitting sizes in a sharp, stainless steel tip and a lovely carrying case for about $50.
When to swap DPNs for Circulars
Whether you're starting wider and decreasing (like the crown of a hat) or starting narrow and going wide (toe-up socks, etc), you can use this rule of thumb on circular projects:
While the diameter of your project is shorter than the length of one DPN, you should be using DPNs or Magic Loop. Otherwise, use a single circular needle.
We find that usually, a circular needle is generally more comfortable to hold, easier to pack up, and lighter than a set of DPNs, not to mention easier to keep stitches from sliding off. If you're new to circular needles, we recommend this introductory Craftsy class, Essential Skills for Circular Knitting.
You can choose either fixed or interchangeable circular needles, but our favorite for circular knitting (which we recommend in our guide to the best interchangeable knitting needles) is the Addi Click Turbo Interchangeable Set. Rather than investing in dozens of circular needles of every single size and length, an interchangeable set gives you almost limitless options for a fraction of the price.
Knitting flat things in the round
Many blankets, shawls, and other flat projects are knit 'in the round' though the product does not end up tubular. These types of projects all require you to start with a much smaller number of stitches, and knit outward from the center, dramatically increasing the number of stitches each round in order to stay flat. While it may seem intimidating, shawls are an excellent beginner lace project. If you're nervous about beginning, check out this guided tutorial from Craftsy.
Many center-out projects like this instruct the knitter to cast on using a set of DPNs at the center, and later transition to one or two circular needles when the project is between 6" and 16" in diameter (depending on the length of the DPN). If you switch to circulars too early, or cast on such a project with a circular needle, the length of the cord may be excessive, and you'll have to deal with the extra ends of the circular needles flapping around and getting tangled.
Additionally, these center-out, in-the-round patterns are often roughly organized into repeating wedges, and such patterns will instruct the knitter to divide the number of stitches equally onto four needles when starting the repeats. For this reason, working with a set of DPNs (which come in packs of 5, where the fifth is the 'working needle') is a great fit, at least until the project becomes too large for the DPNs.
What Needle to Use Cheat Sheet
Psst... Pin this page to come back to it for your next in-the-round project!
Project Type
Double-Pointed
Single 9" Circular
Two circulars or Magic Loop
Single Standard Circular (16"-32")
I-Cord
✔︎
Hat body
✔︎
✔︎
Hat crown
✔︎
✔︎
Fingers of gloves, Amigurumi,
narrow tubes < 4" diameter
✔︎
Hands of gloves, mittens, socks,
medium tubes 4"-6" diameter)
✔︎
✔︎
✔︎
Narrow sleeves and cuffs (12" circumference, 4-6" diameter)
✔︎
✔︎
✔︎
Wider sleeves, yokes (16"
circumference, > 6" diameter)
✔︎
✔︎
Sweater body
✔︎
✔︎
Flat projects worked center-out,
while < 6" in diameter
✔︎
✔︎
Flat projects worked center-out,
while > 6" in diameter
✔︎
✔︎
We're pleased to share that guest author Kelly Vaughn of DocumentGeek contributed to this article. If you're interested in reviewing and writing for the Knitting Needle Guide, please get in touch!
---